Luminous jelly made of light storage granules or light storage glitter granules
Water reservoir glowing in the dark as a light substitute or night light in natural/blue-green, yellow/yellow-green, blue/blue-green, pink/yellow-green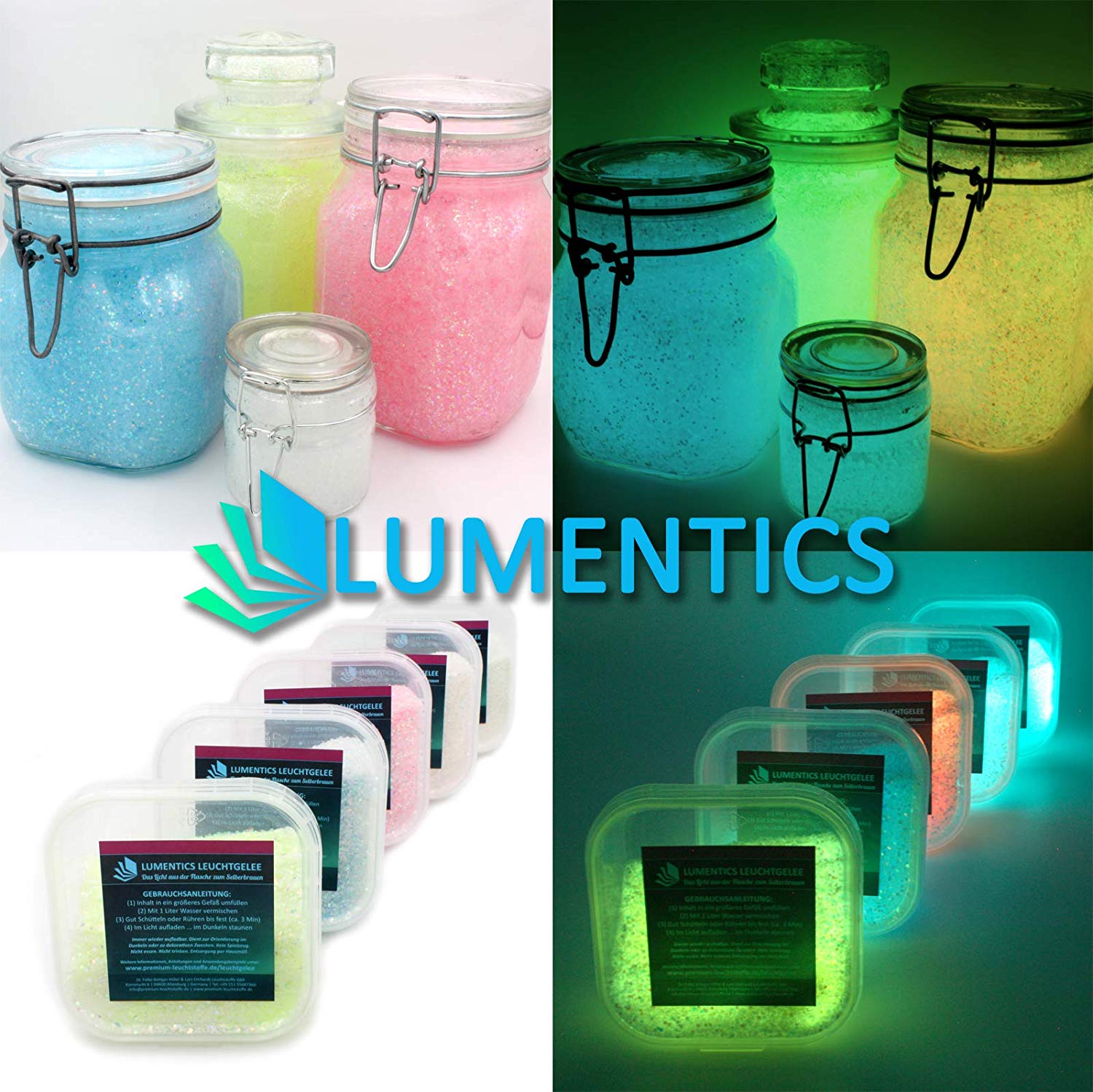 Water transforms the mixture into the unique lumentics long-term afterglow gel. The absorbed water becomes a jelly-like mass that glows magically in the dark. Scope of delivery: 40g mixture in poly cup.
Simply pour our "light from the cup" - granules with 1l of water and shake/stir well, so that the afterglow pigments are well distributed as they swell. Then hold the glass light briefly in (sun) light and marvel in the dark.
Ideal for decoration, as DIY projects and for handicrafts. Suitable as camping light, as garden light, for orientation, to make flower vases colorful and bright or to make bottle lights for the children's room for handicrafts.
The afterglow jelly recharges itself with light ALWAYS. Thus, light recyclers in the form of bottle lamps can be created. As with the well-known solar glasses, you thus receive a sustainable energy storage.
The water gel is harmless in application. Not suitable for consumption and should therefore be kept away from children under 5 years of age as a precaution. Disposal via domestic waste. Safety data sheets available from us.
Versatile application possibilities
Night light replacement
Coloured flower vases (for short-term use)
Camping light
Floor marking
Decoration objects
...and much more
Simply place the powder in a larger container, pour 1 litre of tap water over it, stir/shake well/swell up, place in the light and ... DONE: You have a light in the glass that can be recharged again and again and that glows in the dark.
Tip:
When used as a night light, the light accumulator near the bedside table or bed lamp is ideally charged.
The dream light to do it yourself
Take your light wherever you want. In the children's room on the bedside table, outside in the garden or for camping. Simply beautiful! And long lasting.
Practical examples and customer projects
Customer feedback on illuminated jelly
Versatile application possibilities
Subscribe to the Newsletter 
Would you like to be informed about product innovations or general news about our fluorescent products? Then we look forward to your entry in our mailing list!