Under the brand lumentics we offer high quality phosphors. Our powders, which glow in the dark, serve as the basis for many creative applications or can be found in a large number of directly usable consumer articles. As a competent specialist for the entire range of these regenerative afterglow products, you have come to the right place!
What are glowing products and fabrics?
Versatile application possibilities
Our products are available on
UNIQUE: LUMINOUS SILICONE MADE IN GERMANY
Brand new, unique and only from us: rewetting silicone - in the dark light blue rewetting quality silicone for e.g. tile layers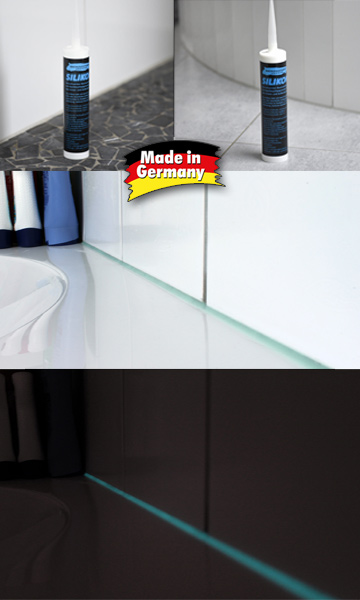 Unique: 310 ml quality silicone with fluorescent pigment additive in silicone cartridge. Color of the day: milky white. By luminous color: blue/Aqua. Glow effect for several hours. Professional sealing Material: UV-resistant and fungus-inhibiting (fungicide).
Wide Field of application: For sealing joints and connection joints in the sanitary sector, glass and window construction, metal construction, for roof and plumbing works or in heating, ventilation and air conditioning technology. Ideal for bath, shower and all tile areas.
Proven quality: Elastic, one silicone sealant for indoor and outdoor applications. Maximum motion absorption of 25%. Provides all the benefits of proven silicone, with additional glowing effect.
Easy to use: Processing/application as conventional. Silicone. The silicone is loaded by sunlight or artificial light sources and glows in the dark, depending on the charge, several hours after. Good adhesion to metals and plastics.
Safe and Tested: Meets common silicone standards. Emission to GEV EMICODE ® EC1 Plus. Coating compatible with DIN 52452-4. crosslinking system: Neutral crosslinking. Copper compatible. Safety Data sheet available on request.
Answers the most important questions in a nutshell.
Yes. All articles and products offered are absolutely non-toxic and free of dangerous chemicals or radioactive substances. Security plays an immensely important role in us. Toys are, for example, tested by German security institutes on EU standards.
The products are shining again and again?
Yes. All of our products have been tested in their afterglow properties for
stable for at least 20 years. Regenerative charging by light is thus ensured for a very long time and without any great, noticeable loss of luminosity.
Why shouldn't I just buy cheaper powder?
Do not buy fluorescent powders, whose luminosity and duration will disappoint you. Our products are selected articles, which are characterized by their processability in addition to very good luminance and duration.
can be used in color?
Yes, since the pigments are quite heavy and would be displaced, they need a correspondingly "thick" carrier liquid. We therefore recommend that you thicken thin colours before use or use another heavy wearer, such as clear lacquer (or plain liquid plastic or clear cast resin). For painting and decorating, it is best to use acrylic colours, transparent or at least as brightly as possible, so that the colour does not darken the luminaire too much.
Is the powder rechargeable?
Yes, the powder can be recharged at any time and by any kind of light (e.g. sun, flashlight, etc.). We recommend sunlight, as the pigments are charged by UV-Eintrahlung the fastest and strongest. The material has a durability of at least 15 years.
Contact
We are looking forward to your questions, wishes and suggestions.